My very first oil painting was done on a small piece of oil painting paper which was around A4 size.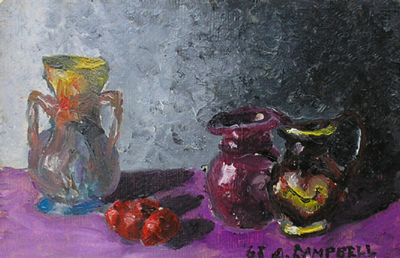 When I was up at my Mum's recently I decided to revisit the objects from this original painting, although I forgot all about the plum ornament.
After I created my reinterpretation in felt tips I felt that it wasn't enough. I had my MP3 player with me and I listened to 'Lucy In The Skies' about 19 times one night in bed.  It inspired me to incorporate some of the lyrics into my 'Still Life'.
The new piece is a homage to my past, and to one of the greatest bit of Art ever created. See how many of the lyrics you can spot!
(406mm x 305mm; felt tips on watercolour paper. May – June 2009)